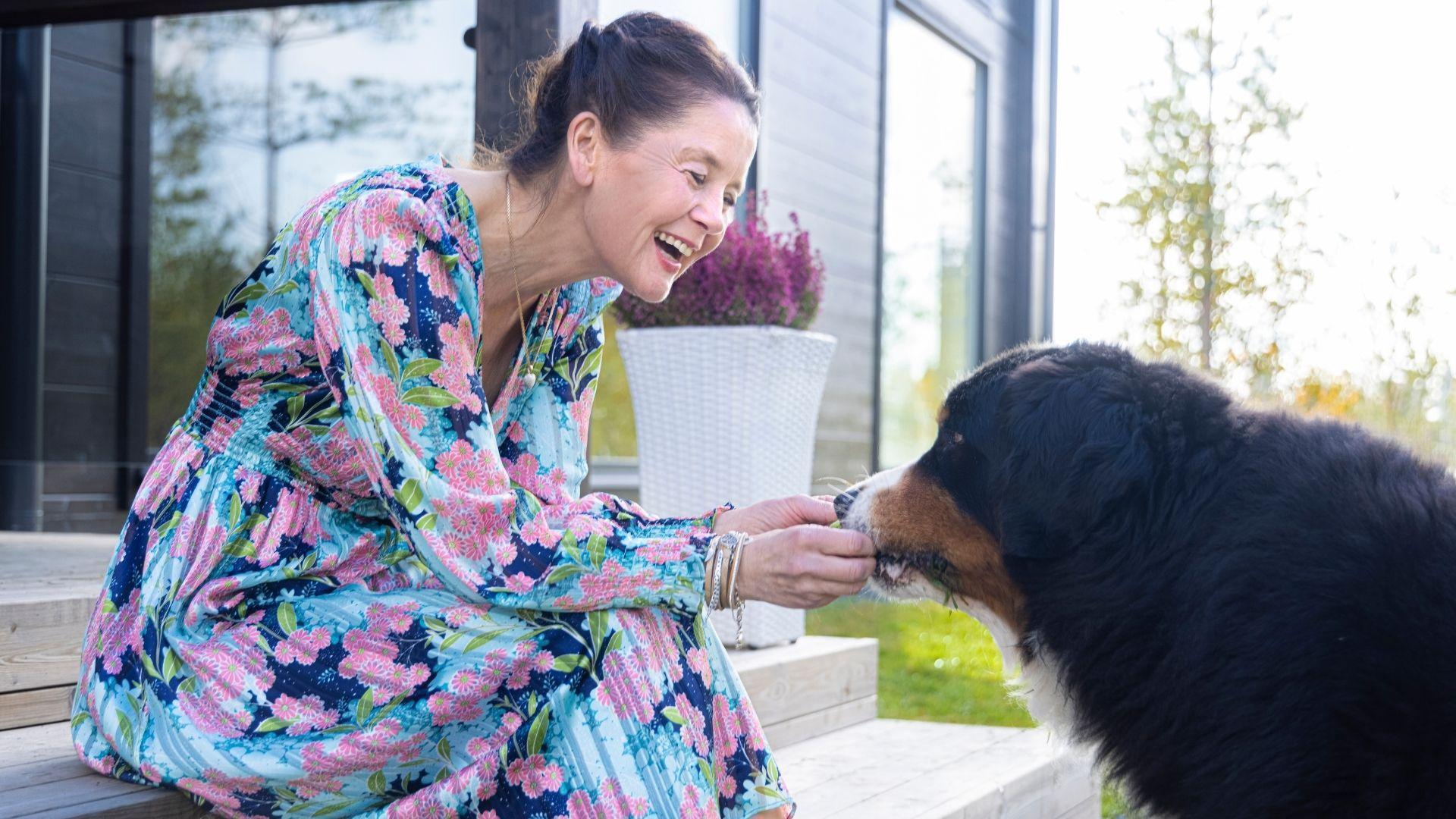 When it's good to be at home
At the end of the road in a new residential area, there is a rock where a new log house rests on its own peaceful site. However, it is usually not completely peaceful in the backyard, as three big dogs – a Bernese Mountain dog and two Newfoundland dogs – play and run around in the fenced yard.
"We feel good here. Our living is not a nuisance for others and others are not a nuisance for us", laughs Riitta Kontturi in the family room of her new log house where she lives together with her dogs.
Riitta, who moved into her new log home in February 2020 is originally from Isokyrö, Finland, but had, because of work, lived in Southern Finland for a long time. However, her love for home region made her to return to live in Seinäjoki, near her childhood home.
"I have lived in many places and moved with jobs. However, I have always had a dream that I would return to my home region. This is where I have always wanted to live, but the working opportunities were so much better elsewhere. Most recently we lived in Helsinki, before moving back to Seinäjoki I decided that our home must exactly meet my family's needs", Riitta recalls.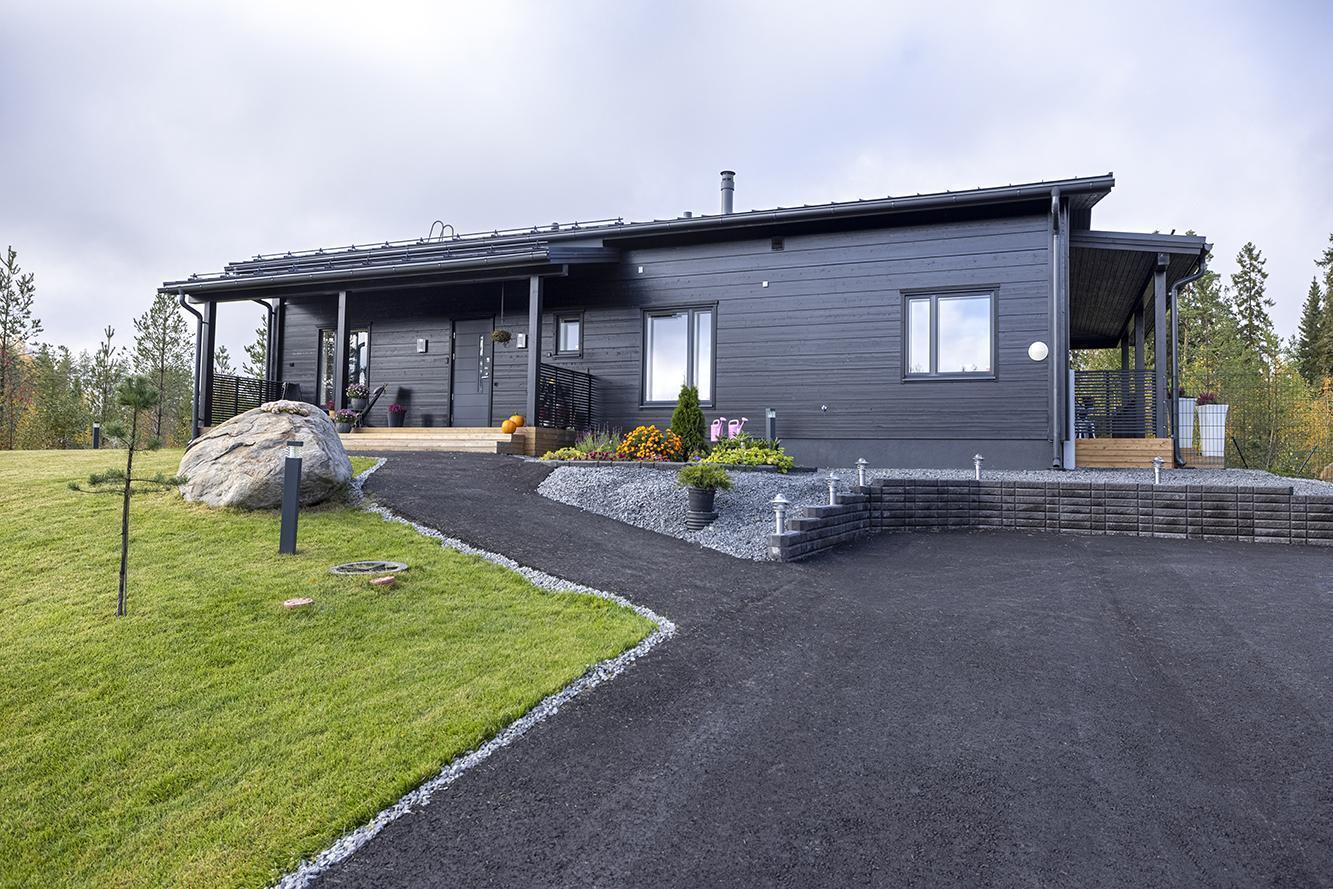 Looking for her own home with the dogs
After Riitta moved into her temporary small terraced house apartment in Seinäjoki, she began to look around for the detached houses on sale. Her expectations for her own home were complex and at first it seemed that she would not be able to find a suitable one. Riitta searched for a new home in the Seinäjoki area and even went to house viewings as far as 80 kilometres away. She began to feel anxious, when she couldn't find a house that felt like a home.
"I thought it would be easy to find a house in Seinäjoki – something with a big plot of land to make it easy to move in with three big dogs. At the viewings, however, when the house might have suited to our needs, the site didn't or vice versa. My friend finally got me thinking when she asked, why wouldn't I build a home of my own, if there was nothing on market to meet my criteria", Riitta laughs.
Building a home had not been a real option for Riitta, as she felt that she would not be capable to do it. The challenge had felt too big – she had no skills or understanding of how things should be done. When no suitable house showed up, her confidence and determination to build her own house began to increase. From the beginning it was clear that the construction material of her new house has to be logs.
"I had been going to log house viewings and of those the Finnlamelli log homes immediately felt like the best option for me. I am an asthmatic and it felt like I could breathe better in a log house, as the air quality is fresher in them."
My previous homes had been made of different materials, but never of logs. From the beginning I wanted this home to be built of logs. And I just knew that the house would have to be built by Finnlamelli. When you get a bit older, you begin to trust your intuition more", Riitta recalls with a smile.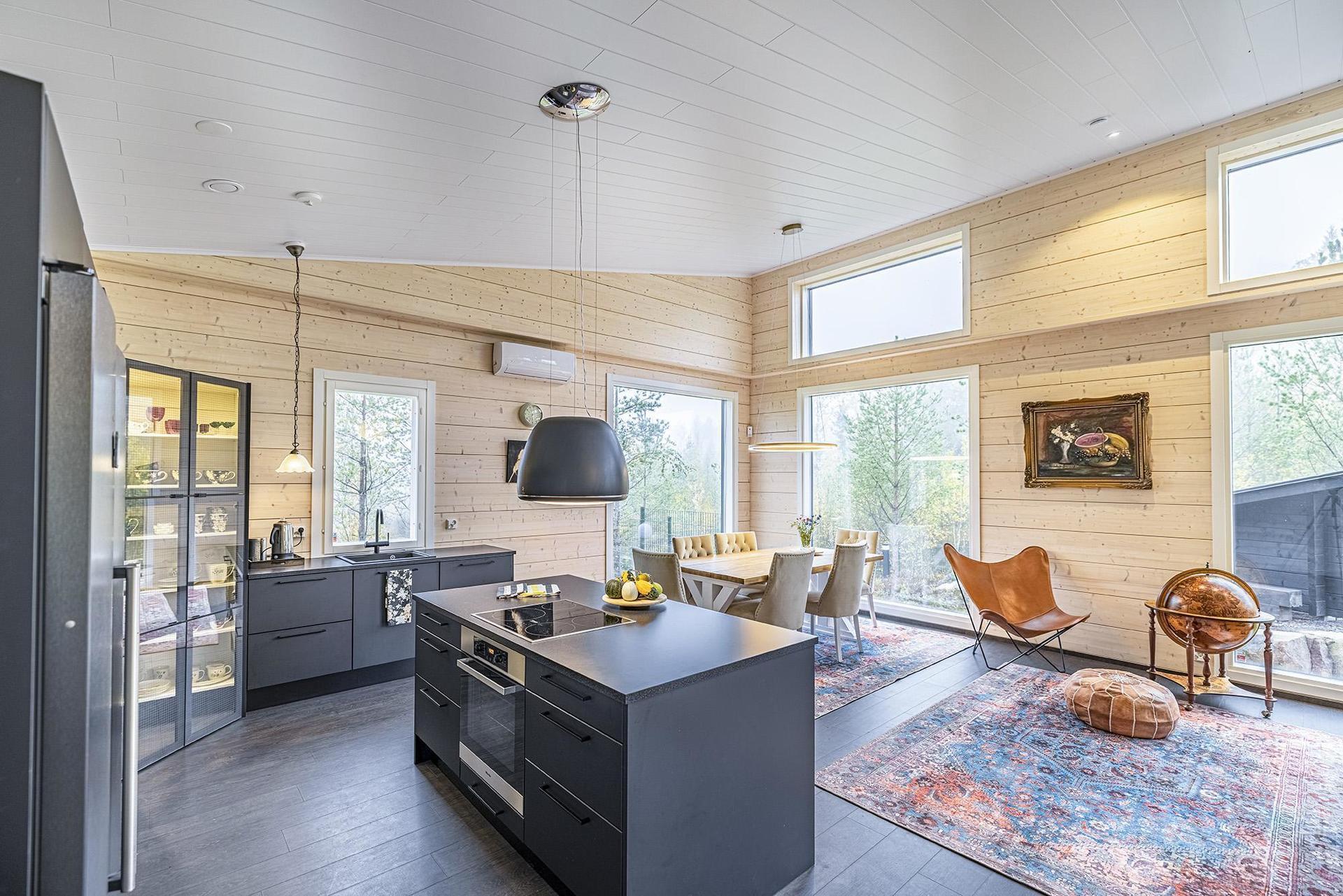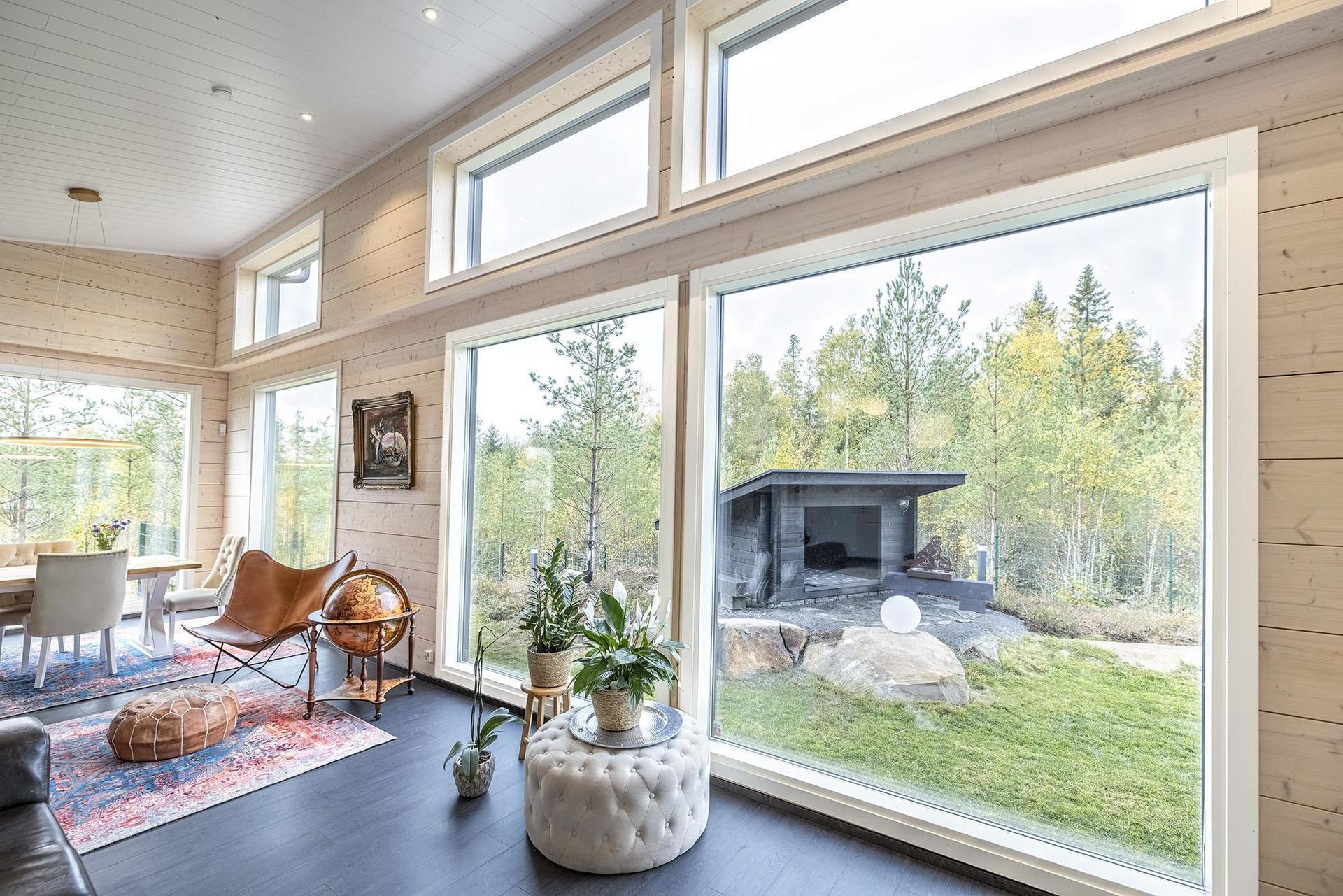 Flexible planning impressed Riitta
Even though in the viewings Finnlamelli homes attracted Riitta most of all, she did not find a standard house model meeting her needs. Finnlamelli's sales representative understood Riitta's thoughts about her dream home and encouraged Riitta to plan her new home using his help. Riitta was especially delighted that none of her ideas were immediately turned down in any phase of planning, but she had the freedom to describe and draw models of what kind of home she wanted for her family.
Once the drawings of the home were finished, there came new challenges with the change of the construction site. An alternative plot of land was found in a new residential district, and Riitta was thrilled that she was fortunate to get it. As the site was different to the previous one, the house plan had to be updated too. Thankfully, the site was quite similar, and the Finnlamelli sales representative helped with issues concerning the plans, ensuring the house with its outbuildings corresponded to Riitta's wishes.
"When you begin to implement an investment and process this big, you must have 110 percent trust in those who are involved. There is a lot of money involved in building a house. The Finnlamelli representative was hands on from the beginning and managed things just as he should. He allowed space for creativity in planning and allowed me to follow my own vision. He summarised the whole process perfectly by saying, 'we are building a home for you'", Riitta recalls.
Riitta really feels like she had a dream team building her new home, for which she is very grateful. Through her friend network, she found the responsible site manager and help in designing the interior. Also, the Finnlamelli staff got to know Riitta so well that the builders asked if they could visit her and see the home once it was completed.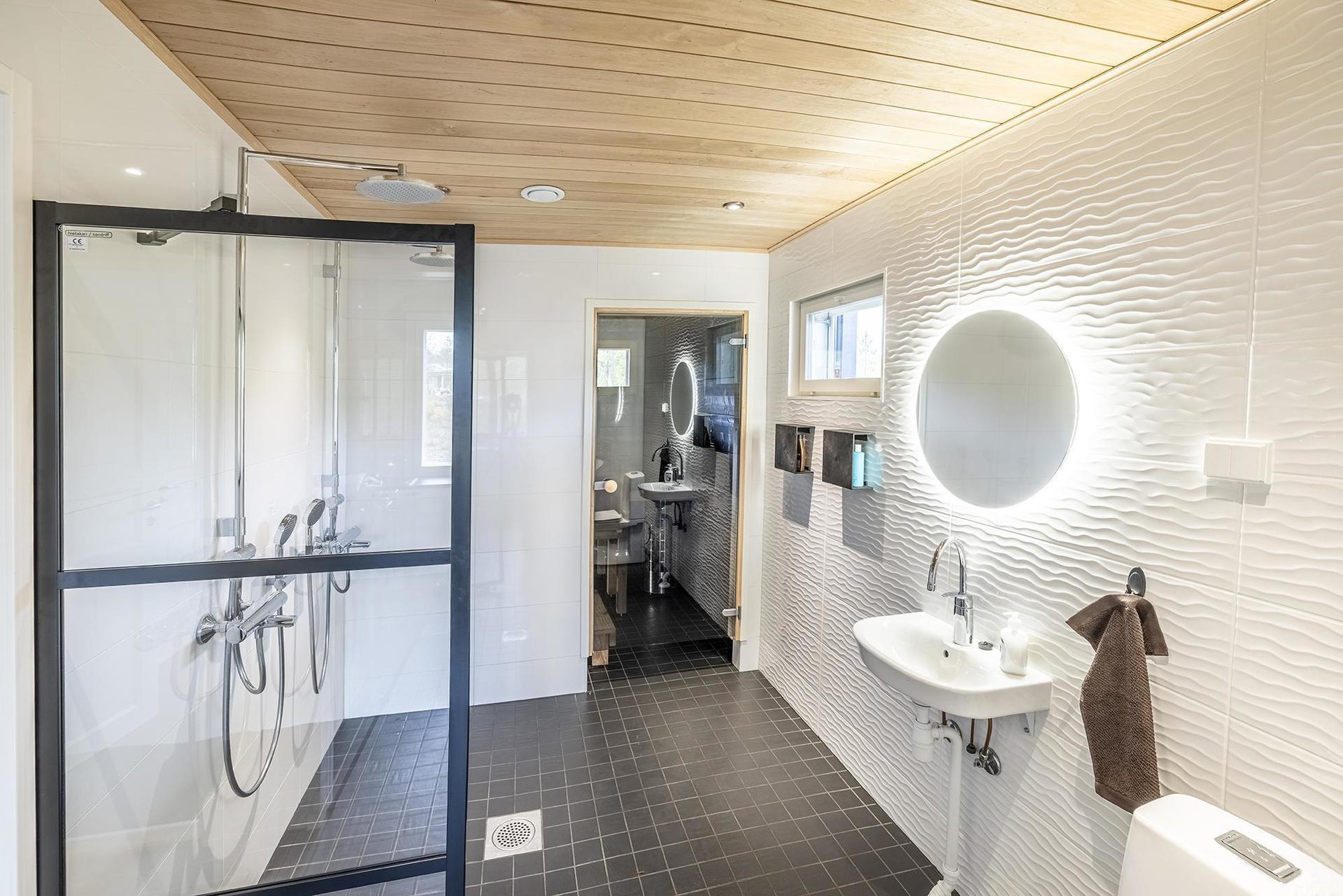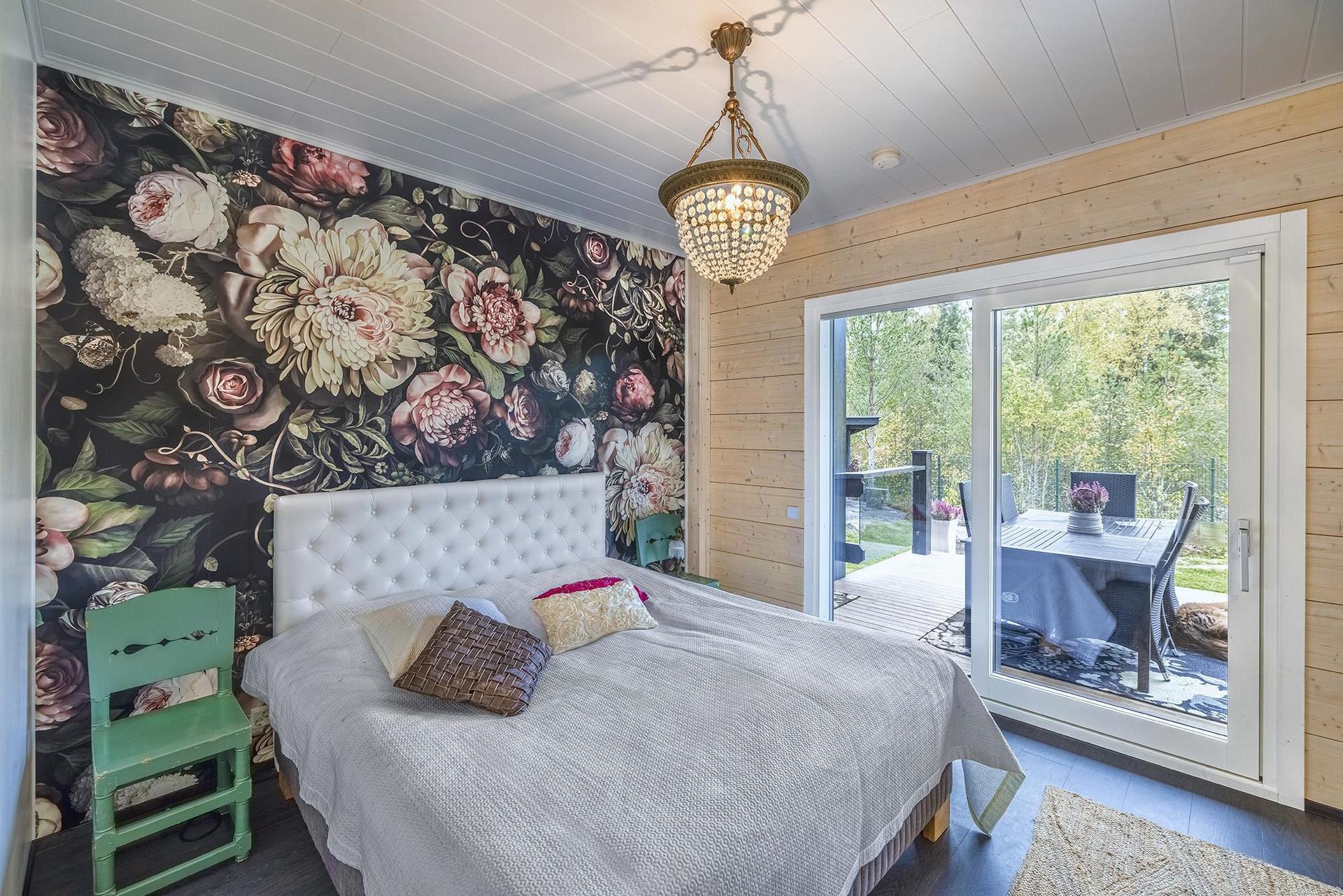 "The most important thing about the new home was that the open concept kitchen-living room would be the biggest, highest and most spacious room – this was a big stumbling block for me when initially viewing other houses. I wanted a space, where I could be with my friends being able to have our dogs to play there, too. There are many big windows and the utility room is a bit bigger than usual, which makes it easier to manage the dogs when going outdoors in wet weather. In addition, there is a "Wow effect" in each room – in my own bedroom, it is a big glass door leading directly to the terrace, which allows me to enjoy the beautiful summer nights from my own room", Riitta says.
A long but fruitful path home
Riitta could not be more satisfied now that her new home has been completed. She has found the best home for her, a cosy haven without the need to be elsewhere. However, she admits that even though the initial leap into the building project was scary at first, the result was definitely worth it. Once she had made her decision, things went smoothly. On site, Riitta helped with cleaning, carrying things inside and collecting the construction waste outside. By doing that she could spare a bit of costs and what was even more important take part in creating her new home.
"The core group in the building process was small, but everyone had their own function – I could have not been able to do this alone. The trustworthy people around me made this possible. I told my dogs once that there would be a day when we would have enough space for living. This helped us to get through the temporary period before we moved into our new home. When I got the dog fencing ready in our yard for Midsummer, the feeling was amazing – now we are here, in our own home, where the boys have a bigger space too. If I were to do anything differently, I would have got more massage therapy during the building phase," Riitta laughs happily.
Living space: 152 m²
Rooms: Open-space kitchen, dining and livingroom + bathroom and sauna + utility room + three bedrooms
Residents: Riitta and her three dogs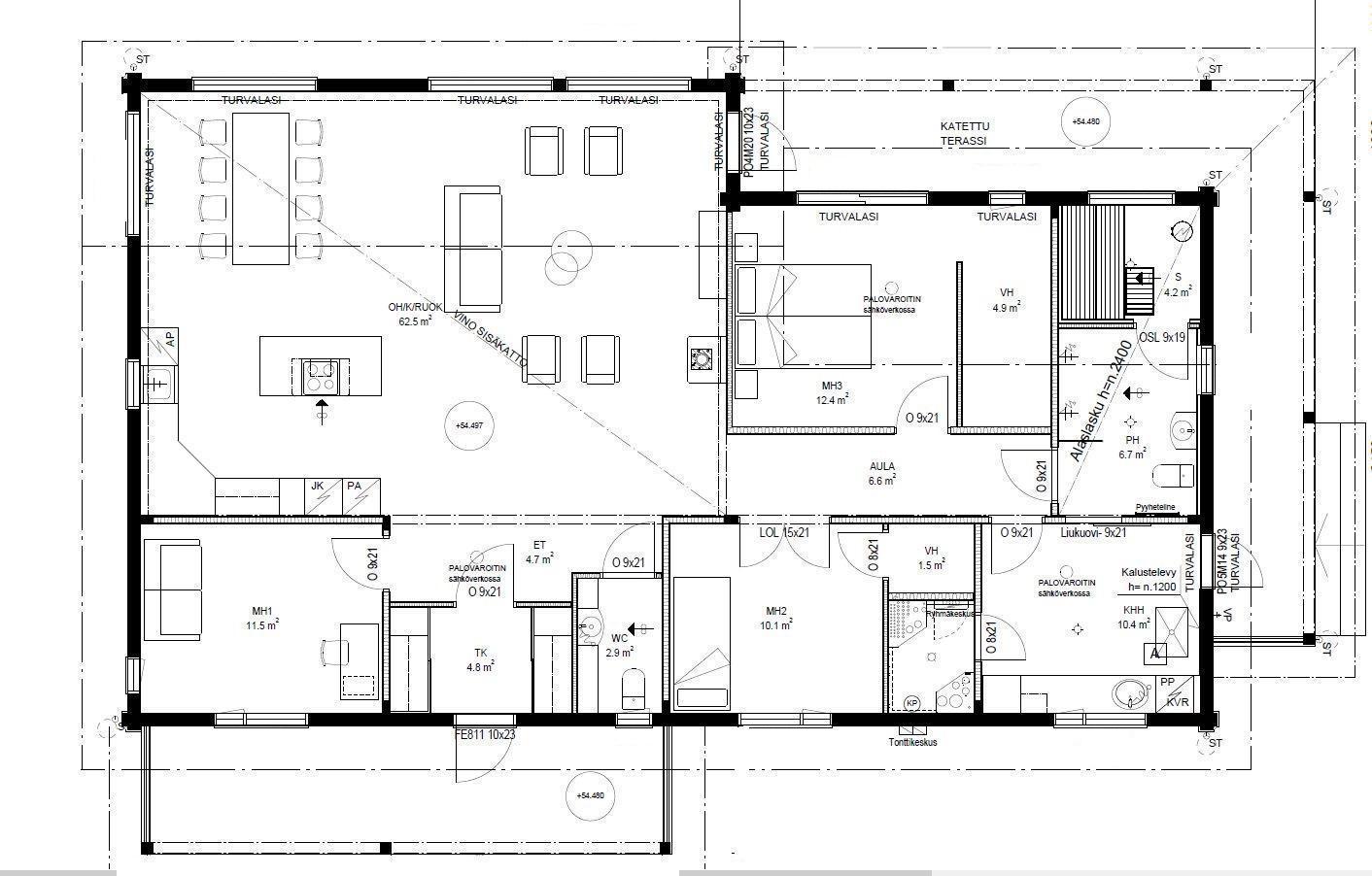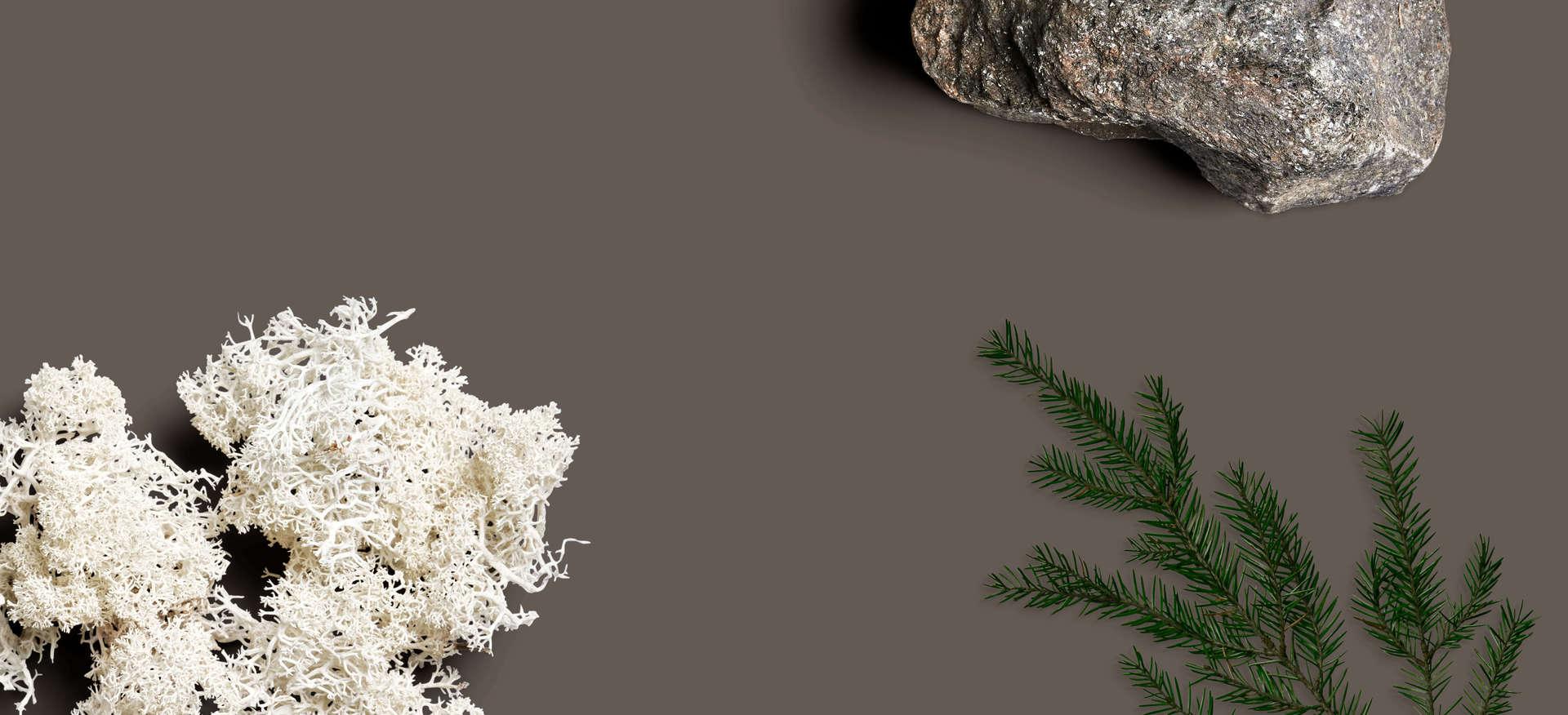 Order a Finnlamelli catalogue
Order our catalogue free of charge.